Alabama Mountain Property at The Bluffs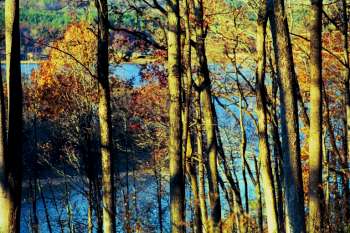 Northeast Alabama is very similar to the mountainous regions of northern Georgia, North Carolina and Tennesee. The southern end of the Appalachian Mountains extend down into this region offering some breathtaking views of the surrounding lakes and valleys. Visitors and Alabama mountain property owners appreciate views from majestic overlooks, waterfalls and canyons, and standing on the edge of sheer rock cliffs to watch mighty rivers meandering across the mountain floor. Nowhere are the advantages of mountain living more evident that in The Bluffs of Weiss. The Bluffs offers outstanding examples of affordable Alabama Mountain property overlooking some of the most scenic lake and river views.
This region of Northeast Alabama is locally known as the Appalachian Valley, or Coosa Valley region, which is the southern extremity of the Appalachian Mountains. This region occupies an area within the state of about 8,000 square miles and is a limestone belt with parallel hard rock ridges left standing by millions of years of erosion to form the mountains that you see today. For homebuilders and homeowners these gently rolling mountain ridges offer plenty of "easy-build" sites with unrestricted views to some of the Southeasts finest vistas.
The Alabama Mountain property at The Bluffs of Weiss is particularly interesting in that it is actually a mountain ridge that is almost totally surrounding by the waters of Weiss Lake and the rivers that feed Weiss Lake. The best description is "like a mountain finger poking out into Weiss Lake". From a homeowners perspective this creates a unique opportunity to have breathtaking lake, mountain, valley and sunset views from practically every homesite in The Bluffs. This type of mountain homesite with the combination of views in a development so close to Atlanta, Birminham and Chattanooga is pretty unique.
To see some of the remaining Alabama Mountain property at The Bluffs, go take a look at pictures of the premium lake and mountain view homesites still available.