Southern Living Showcase Home
(Open House Dates: May 5-6, May 12-13, May 19-20)
Construction of the Southern Living Showcase Home at The Bluffs was completed in January, 2012. Landscaping is being done in early 2012 and the Open House dates will be the first three weekends in May (2012). Look for announcements in Southern Living magazine and on their web site.
The design of this years' Southern Living Showcase Home at The Bluffs incorporates some basic elements of an "Alabama Farm House," while creating a model for sustainable living, energy conservation, and environmental concern. But these design elements and construction techniques were not developed just for the sake of being green---this house was not built by or for "tree huggers." Every component of the design, every choice of building material, and every construction technique was carefully analyzed to assure that each was economically justified. Our goal was to prove that being practical does not conflict with being green---so long as the test for practicality is primary.
Above is an architect's rendering of the front elevation of the Southern Living Showcase Home at The Bluffs. The home was designed by Lew Oliver, an internationally acclaimed Atlanta-based home and community planner with a penchant for energy conservation and environmental planning. Lew designed every aspect of this home to take advantage of natural elements to conserve energy and provide for owner comforts. This included house placement such that almost all windows and doors have summer shade. The house is divided into segments to allow minimal heating and cooling to unoccupied parts of the house and a breezeway (a dogtrot) captures the natural flow of breezes from Weiss Lake. The guest bedrooms and two bunk rooms (with four bunk beds in each) are located across the dogtrot in the house section called the Bunk House.
This Showcase Home was built by Chappell Construction Group (CCG), an Atlanta-based builder who has built other homes at The Bluffs. Wade Chappell, managing principal of CCG and a Georgia Tech engineer (with business sense), played a primary role in balancing sound construction techniques and quality building materials with cost efficient construction considerations.
You can see from the floor plan of this Southern Living Showcase Home that this home is designed to maximize the cooling effects if the Weiss Lake breezes be allowing the flow through all the rooms and through the dogtrot breezeway. Ecery room captures a dramatic Weiss Lake or mountain views.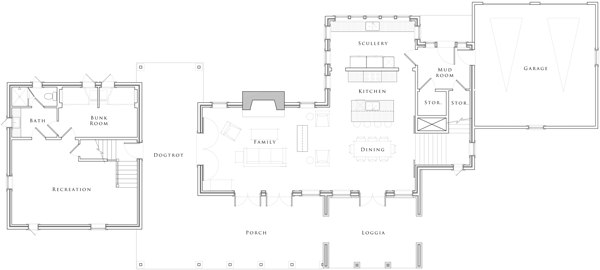 Above are the renderings of the rear (lakeside) view of the home and the first floor's plan. You can see from the floor plan that this home is designed to maximize the cooling effects of the Weiss Lake breezes by allowing their flow through all the rooms and through the dogtrot breezeway. Additionally, every room has a dramatic Weiss Lake view.
A separate cottage, called The Bluffs Conference Center, features a large community conference room (with a drop-dead lake view) for community functions; business meetings; social club and civic gatherings; and other functions which bring guests to The Bluffs. The cottage has an office for the business of The Bluffs and a guest bedroom for lot owners who have not yet built homes. The lower floors of the cottage will contain a Workout Center for residents of The Bluffs.
A summary of the cost-justified, energy saving features of the Southern Living Showcase Home at The Bluffs includes:
One-room-deep layout, thus enabling cross ventilation...the ultimate in passive design;
Heating and cooling with a ground-source heat exchange system (sometimes referred to as a geothermal system);
Hot water heating using by-product heat from the geothermal system;
House orientation, porches and overhangs designed to minimize summer sun on windows and doors and maximize solar energy;
11 inch thick walls, allowing for the latest insulation techniques to prevent heat and cold transfer into the building envelope;
Use of reclaimed early 1900's brick for dogtrot and porch floors and wormwood maple from an historic pepper curing barn for accent walls;
Stone used for fireplaces and exterior harvested from the property;
Use of James Hardie's Artisan (extra thick concrete) product for exterior walls, to minimize future maintenance;
Porous river rock drives and parking areas to minimize water runoff;
Capture of rain water for lawn and planter irrigation;
Open breezeway to separate portions of the house and harvest cooling breezes off the lake;
Paint colors, roof material and color schemes consistent with heating and cooling efficiency; and,
Energy saving household appliances, windows and doors.
This Showcase Home is being exclusively decorated by Avis Everett, a Georgia-based interior designer. Avis has a reputation for classic and functional design and décor and has demonstrated that expertise with this Showcase Home. When you visit, you will notice a mix of classic furnishings, with cutting edge design elements, such as stainless steel countertops and selected antiques.
Designer: Lew Oliver ( Roswell, GA)
Developers: Patsy & John Hyatt ( Cedar Bluff, AL)
Builder: Chappell Construction Group, Inc. (Atlanta and Cedar Bluff, AL)
Landscape Planner: Jack LeCroy (Auburn University Horticulturist)
Marketing Agency: Advertising Dynamics, Inc. (Rome, GA)
Showcase Home Sponsors: )
Sunbrella (fabrics)
Chevrolet
Belgard (pavers)
Sherwin-Williams (paints and stains)
Lennox (heating and air conditioning)
Thermador (appliances)
Kohler (plumbing fixtures)
Interceramic (tiles)
Swingbedsonline (swinging bed)
Primo (ceramic grill)
Elco Lighting (light fixtures)
Lane Manufacturing (stainless steel countertops)
Jeld-Wen (windows)
Marmi Natural Stone (marble countertops)